ITpipes Platform Licensing
| FEATURE | INSPECTION VIEW | READ-ONLY | WEB | RESERVED* |
| --- | --- | --- | --- | --- |
| Simple search tool. | ✔ | ✔ | ✔ | ✔ |
| Inspection view with comprehensive details including observations, severity rankings, snapshots, videos, PDF, asset and inspection details. | ✔ | ✔ | ✔ | ✔ |
| On-screen inspection comparison for multiple inspections. | ✔ | ✔ | ✔ | ✔ |
| Launch from other applications such as ESRI GIS web maps, Cartegraph, Cityworks, Infor IPS, Lucity, and Maximo. | ✔ | | | ✔ |
| Ability to edit and add new records, including asset data, inspection data, and header fields. | | | ✔ | ✔ |
| Drill-down filtering with advanced options. | | ✔ | ✔ | ✔ |
| Create SmartTabs with unlimited sorting, grouping, filtering, and reporting. | | ✔ | ✔ | ✔ |
| SmartTab dynamic GIS mapping with automated color-coding, selecting, and grouping. | | ✔ | ✔ | ✔ |
| Observation/defect ploting onto GIS map. | | ✔ | ✔ | ✔ |
| Work order assignment (needed for AMS integration users). | | ✔ | ✔ | ✔ |
| AMS Integration options. | | ✔ | ✔ | ✔ |
| Map display for work order assignment. | | ✔ | ✔ | ✔ |
| Administrative Panel control. | | | ✔ | ✔ |
| On-demand, always available, single user licensing. | | | | ✔ |
| *Built-in ESRI editing features coming! (May require reserved licensing users) | | | | ✔ |
ITpipes Mobile is for performing inspections that have video, imagery, or sensory data attached. This used for collecting and coding the inspections.
Data entry for field inspection usage
Software overlay based functions and control
Full video encoding in various formats
Operations and administration features to automate functions such as snapshot capture, PDF creation, data syncing
Offline map display and access for work scheduling.
Typical users include field inspection users or office users that are doing full coding on pipe inspections.
Licensing is per desktop and does require an annual subscription.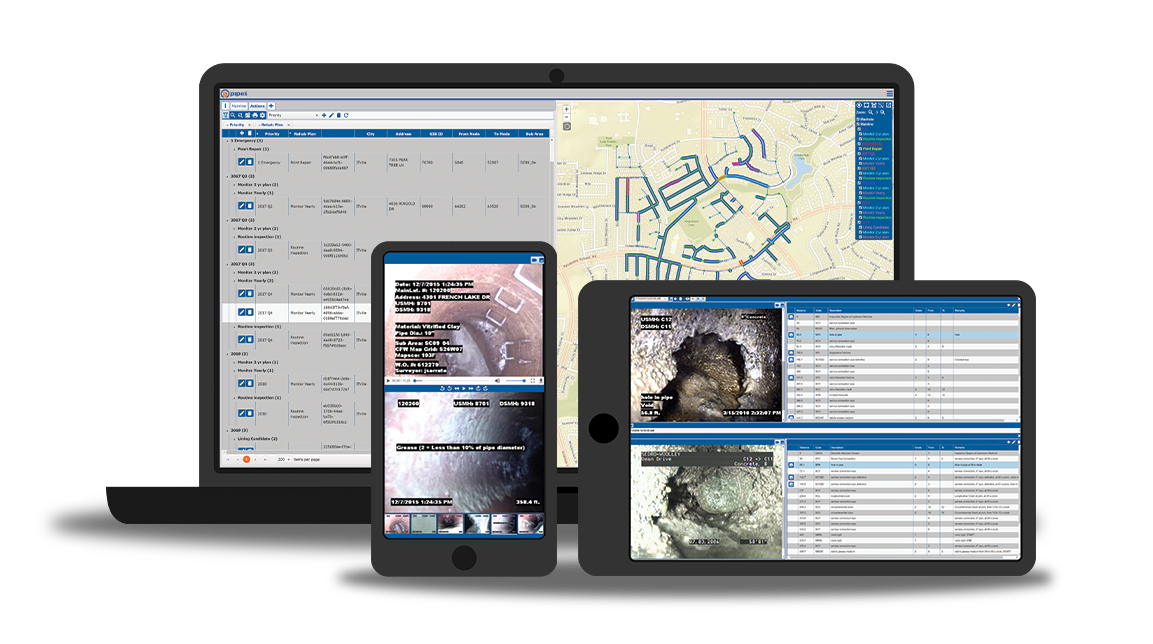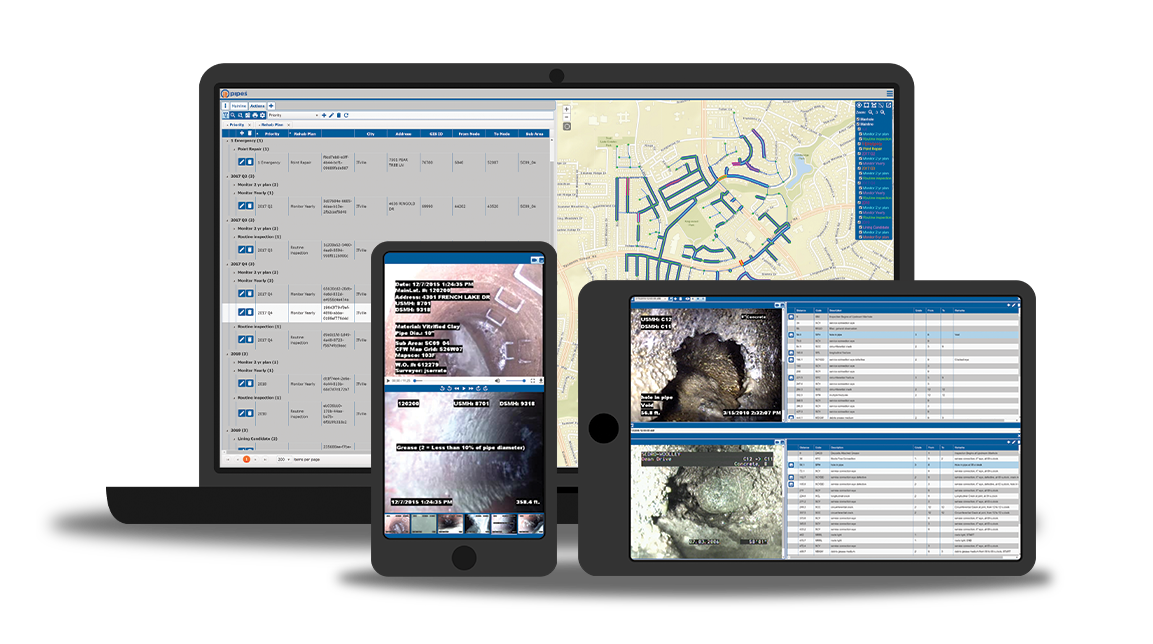 Panoramo*
ITpipes Mobile with Panaramo is used for capturing and coding Panoramo* video inspections. Typical users include staff that are coding pipe inspections with Panoramo* video. This licensing is per user and includes the royalty fee to Ibak.
*Ibak Panoramo is licensed by Ibak Helmut.
Asset/Inspection Type
With ITpipes licensing, the platform is built to manage unlimited asset network groups and inspection types. Upon purchase, one asset network group with an associated inspection type is provided, an example of this would be sewer mainlines or storm culverts with CCTV, smoke testing, or Ibak
Panoramo
*. Additional asset network groups and/or inspection types may require additional setup and/or licensing.
Sync Licensing
Sync
isused to transfer data between systems. This moves assets, inspections, condition assessment detail, associated media files, associated sensory data files and other information between various systems. Sync automated management of inspection data.
Typical instances

 
of Sync include Web repositories syncing to CCTV units, Web repositories syncing to AMS or financial systems, and otehr integrations.
Licensing

 
is per instance and does require an annual subscription.
Asset Management Integration Licensing Options
Asset Management Integration collaborates your work order system with ITpipes. Integration is available for Cartegraph, Cityworks, Lucity, IPS Infor, Tyler Munis, Beehive, and Maximo.
Typical instances of integration per asset type include sewer mainlines, sewer manholes, storm mainlines, or similar.
Licensing is per asset and/or inspection type and this does require an annual subscription.