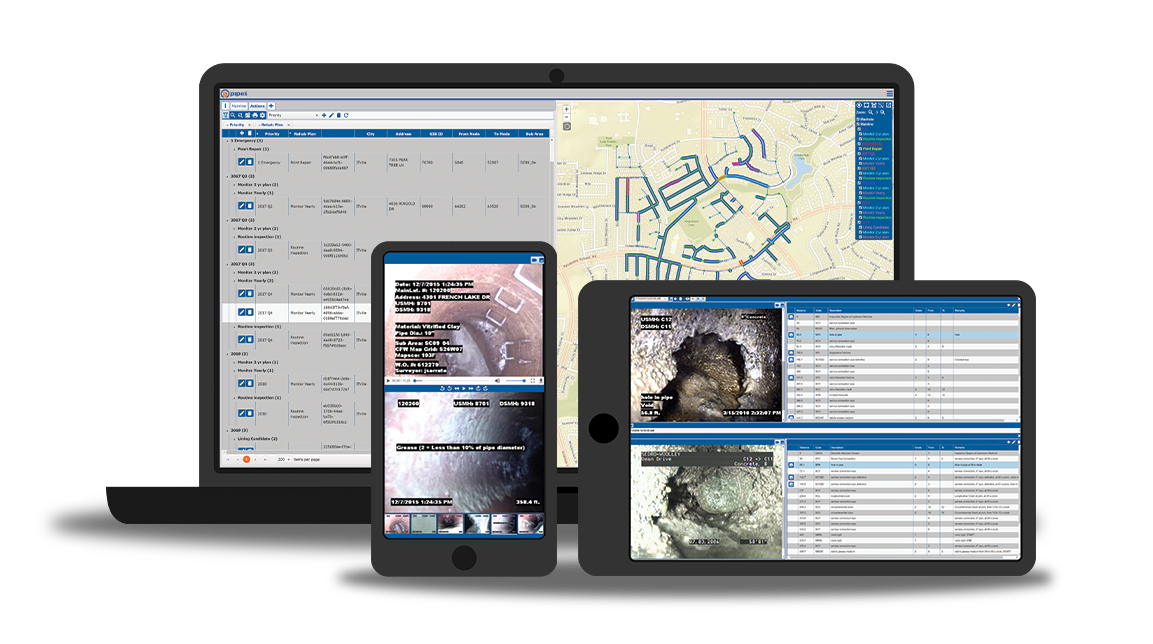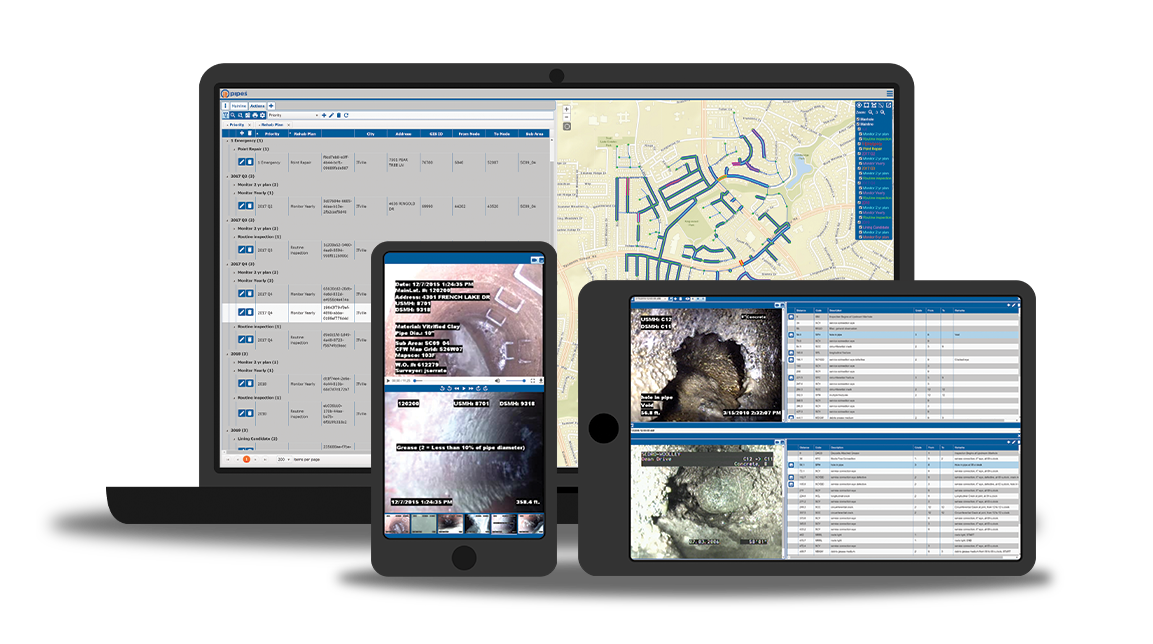 Get Actionable Intelligence from Your Inspections
Anytime. Anywhere. Any Device.
To maintain your water distribution and wastewater collection system, you need to first understand the condition and location of the pipes. With ITpipes, collecting detailed and standards-compliant inspection data is as easy as can be. ITpipes Web has options for on-premise local hosting and fully managed cloud SaaS – this means that you have access to inspections anytime, anywhere, on any device!
Make Better Decisions with ITpipes SmartTabs
ITpipes Web comes with search, sort, and grouping tools that will quickly provide intelligent reporting. With unlimited drill-down filtering and querying on any data collected, ITpipes dynamically updates SmartTabs, as new inspections sync, to give you instant reports. And the same reports have drill-down color-coding displayed on the map, updating real-time as new inspections sync!
Discover the endless possibilities with SmartTabs.
Comprehensive Inspections
Use Web with storm, sewer, and combined, or other linear and point assets for comprehensive underground inspections. ITpipes Mobile/CCTV inspections sync directly into ITpipes Web with internal hosting or ITpipes Cloud.
Made for Teams
Web is the ultimate tool for pipeline inspection, management and reporting in the office, providing quick inspection review access in the field and powerful reporting as needed. ITpipes Web is browser based and can be used to simplify deployment. Web also has powerful features for inspection data management, review, planning, scheduling, and more.
Unlimited Collection and Reviews
ITpipes' extensive configuration options provide unlimited potential for pipeline data collection, review, analysis and planning. Plus, ITpipes user editing – with appropriate permissions, is available at any time for inspection QA/QC and review.
Tracking and Notifications
Sync tracks all details with a comprehensive audit trail and can send an email notification if there is an interruption. This reduces clean-up and QC efforts, and ensures your inspections are where you want them, when you want them.
Work Order Scheduling & Download
Advance scheduling by supervisors and planning can be transferred via sync to an inspector's to-do list. This simplifies scheduling, eliminates operator manual entry of data, and gives the inspector location intelligence for asset confirmation.
Configure to Suit Your Workflows & Business Processes
Numerous options exist for unique configuration and setup of specific syncing needs for your business processes.
Centralize Your Inspections
Scheduling and asset details transfer to the inspector for rapid inspections. Completed inspections transfer in for quick sharing and easy inspection access!
Link all your portable systems or incoming contractor work to a central project. Set Sync to work with multiple inspection databases, such as sewer and storm or manhole and culverts.
Streamline workflows with Integration to Asset Management Systems
With integration to AMS/CMMS, your inspections are available where and when you need them. Whether you're using Lucity®, Cityworks®, IBM's Maximo®, Accela®, or other, this automated integration will happen behind the scenes. ITpipes Web with asset management integration provides powerful, automated features for inspection scheduling, tracking, quality control, and review.